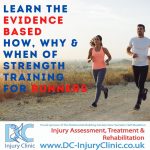 STRENGTH & CONDITIONING WORKSHOP FOR RUNNERS
We are in the midst of a running boom. More and more people are putting on their trainers and hitting the roads, trails and tracks over a wide variety of distances. Whilst this is obviously an amazingly positive thing, running is a high injury-risk activity.
During a 12 month period, the injury rate for running has been found to be as high as 30-59% (Reference 1).
Put another way, runners suffer an injury roughly every 100 hours (of running) – or 2-3 injuries a year (Ref 2).
The most common question I get in clinic is 

how do I reduce my chance of getting injured?
There is strong evidence that Strength & Conditioning training can reduce Injury risk by up to 50% (Ref 3).
For over a decade, I have helped 1000's of runners of all ages compete at all levels, or simply enjoy their running when they had been told that they couldn't. 
Let me show you how.
In this LIVE 2 HOUR WORKSHOP, you will
– Learn the key components of Strength and Conditioning aimed specifically at running.
– Appreciate the importance of why we as runners should strength train, particularly as we age.
– Have access to a full repertoire of equipment free, body weight exercises designed to keep you doing the thing you love – running!
– Start to 

reduce

your risk of injury
–

Improve

 your endurance, and speed
– Understand where S&C fits into your

program
– Bust some

myths

about some common training and therapy concepts enabling you to cut out the often costly and time consuming adjuncts that add so little
PRICE: 
£30
DATE:
Wednesday 27th July, 2022
TIME:
19:00
LOCATION:
Washbourne House Therapy Centre, Wroughton
REFERENCES:
1. Lopes (2012), 2. Buist, (2010), 3. Lauersen JB, Bertelsen DM, Andersen LB (2013)