Injury Assessment, Treatment & Rehabilitation
Welcome to DC Injury Clinic
Danny Clayton is a practicing Advanced Sports Therapist, based in Swindon, Wiltshire, with over a decade in the industry, offering a full rehabilitation service – from injury to return to full health, and dealing with all manner of soft tissue and joint pain.
"Whilst I do provide hands-on treatments in (almost) every appointment, I do not specialise in any particular injury type, approach, treatment or philosophy. .
I believe that we all have a 'Pain-on' and a 'Pain-off' setting, and that at the root of this is an understanding of *why* you are in pain. When you start to understand this, you begin to regain that control. I have helped thousands of people live pain-free using this approach.
I also believe that our aim is to get rid of you and so what you will not get is never-ending treatment plans which consist of *only* hands-on therapy, giving control to – and so building reliance on – the therapist.
I am qualified in both Sports Therapy, and Sport & Remedial Massage Therapy, as well as Osteopathic Articulation Techniques™ and Strength & Conditioning, ensuring a rounded and thorough approach to your treatment"
INJURY ASSESSMENT &
TREATMENT
Whether you are suffering from a specific injury, have chronic aches and pains, or are pre- or post-operation, I have successfully helped 1000's of people regain control of their pain, without the need for never-ending treatment plans.
Assessment | Treatment | Rehabilitation

SPORTS MASSAGE &
SOFT TISSUE THERAPY
Sports Massage and Soft Tissue Therapy is designed to assist in addressing issues and imbalances in soft tissue, which can lead to pain or dysfunction, and are caused from repetitive or strenuous physical activity, or trauma.
Recover | Adapt | Progress
RUNNING CLINICS

With over a decade of working with runners of all abilities – from Couch to 5K to Podium level athletes – I offer an unrivalled package for anyone who runs, bridging the gap from Rehab to Performance.
Gait Analysis | S&C Plans | Functional Screening
HOW CAN YOU HELP YOURSELF?
What if the best person to help fix your pain is….you?
Easy to follow ONLINE Programmes to carry out in your own time and space
I know that face-to-face appointments aren't always convenient for everyone. And I know that sometimes you just want some guidance to help yourself, rather than booking an appointment in your busy schedule.
I have created ONLINE programs for a range of conditions – including Back Pain, Knee Pain, Shoulder Pain, Ankle Instability and Achilles Pain – which are easy to follow and achievable from the comfort of your own home, at your own pace, and with no need for expensive equipment or gym memberships.
ONLINE
COST EFFECTIVE
IN YOUR OWN TIME
Went in with a bit of an achilles niggle at the start of the year had a couple of consults and a few exercises to work on the issue. All cleared up and back to it. Nice setup up down in Washbourne House with a light and comfortable, private consulting room
Mr. G. McDermott
Danny is my go to guy with all the niggles , aches and pains brought on by training and resolved them very quickly… I hurt my back during lock down and luckily Danny is able to do video and email consults… sent me a video link of exercises to help with sciatica and I'm now able to move about and even run again after a few weeks.
Mrs. C. White, Elite Athlete
Danny's ONLINE course has helped me to realise how to manage my pain better, and reading all the information made me approach it differently.
Mrs. M. Jones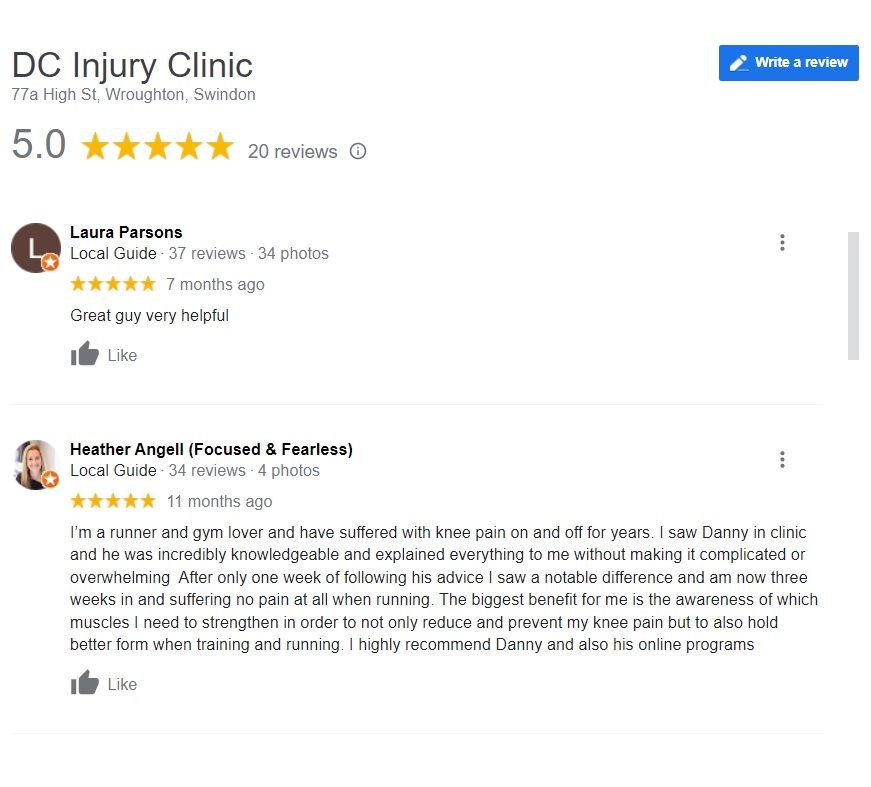 Resources – Blog & FREE Downloads
From "shin splints", to Whiplash, search my Blog page for up to date and relevant information.
Plus, Download my FREE eBooks, here